As we all know, sadly cruise ships have not hit the seas since March 15th. That's 4 months of waiting and wondering when we will be able to cruise again, without a lot of information from the cruise lines on what the "new" cruising experience will look like.
The cruise lines are now beginning to release information on some of the new safety protocols and procedures onboard the ships (progress is a good sign)! One of the questions that I receive a lot is, "What about the muster drills?" These are mandatory drills required by International Maritime Laws that every passenger is required to attend prior to the ship setting sail.
These drills have evolved over the years. As you can see above, when our family began taking cruises we were required to sport the beautiful life vests at our actual muster station (the location of our lifeboat), while a safety briefing was given by the crew. Every guest was physically checked off the list by a crew member.
Fast forward to our most recent cruise for Thanksgiving 2019. You no longer have to wear those pretty orange life vests, but everyone is still required to gather at their muster station for the roll call and safety briefing. You can see, there's not a lot of social distancing in either of these photos, which will present a problem when cruising in COVID-19 era.
It's time for muster drills to evolve again. Royal Caribbean International is excited to introduce Muster 2.0, an entirely new approach to delivering safety information to their guests onboard Royal Caribbean, Celebrity, and Azamara ships. This innovative program — the first of its kind — reimagines a process originally designed to address large groups of people into a faster, more personal approach that encourages higher levels of safety. With this enhanced experience, the essential safety information will be offered to guests through new "eMusterTM" technology via their mobile devices, as well as on the interactive stateroom TVs.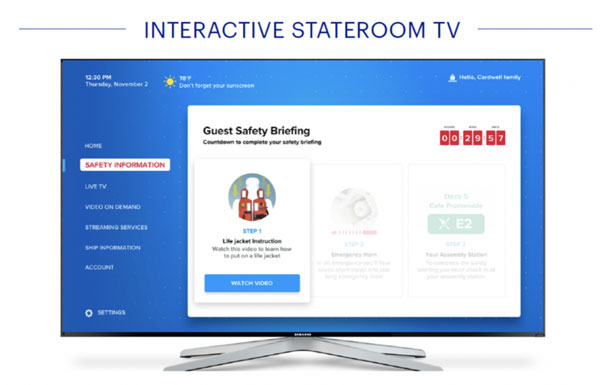 This new approach offers guests the flexibility to complete this very important process at their leisure prior to setting sail (a 4-hour window), allowing guests to jump right into their vacation — uninterrupted. Once onboard, each guest will be required to visit their assigned assembly station where a crew member will verify the completion of the safety requirements and will be available to answer any questions. All steps must be completed prior to the ship's departure, as required by international maritime law.
I, for one, can say that I'm excited about this new technology. Traditional muster drills had a tendency to turn into a slow, sometimes hot and sticky, process waiting for all the guests to make their way to the station. With this new technology it's up to you when you want to complete the steps (prior to sailing). My advice is to knock it out as soon as you board so you can immediately get started on your Vacay!
If you would like a personalized quote for your next family cruise, please fill out my Vacation Request Form, email me at info@CruiseTherapyTravel.com, or call 817.946.0438, and I will help you and your family sail away!