You may have heard some mumblings of enhancements and upgrades coming this fall to Disney Cruise Line's first ship, the 83,000 ton, 1998-built Disney Magic.
Well, we want to give you a little sneak peak into what you can expect and we know you will be just as excited as we are to get onboard the new and improved Disney Magic this winter.
The main purpose of this renovation, scheduled from September 7th – October 10th, is to give the ship a cleaner, more modern, yet timeless feel.  They will also be installing much of the new technology that was introduced on sister ships, Fantasy and Dream.
So without further adieu, let's get started…
Since most of us considering Disney Cruise Ships have kids (don't get me wrong, they are still loads of fun for adults traveling alone), let's begin with the changes that will be happening in the children's and teen areas.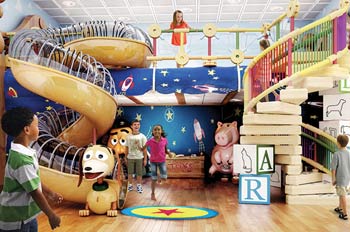 The onboard nursery, which cares for children from 3 months to 3 years, will undergo a transformation to show-off a new "It's a Small World" theme, including much brighter, fun neon colors.
The Oceaneer Lab, for ages 3 years to 12 years, will lose the current outdated futuristic outerspace decor in exchange for a new more modern feel with areas like Andy's Room, based on the movie "Toy Story".  This area will feature a life-size version of Mr Potato Head and Hamm the Piggy Bank, along with a slide built into the slinky dog.
Kids will also be able to unleash their inner super hero in Marvel's Avengers Academy, which includes the uniforms worn by Captain America and Iron Man, simulate that they are driving the ship, play games with Mickey & Pals in Mickey Mouse Club and explore Tinker Bell's magical world in Pixie Hollow.  Pixie Hollow will have the feel of a "magical fairy forest" with a giant teapot and a costume closet.
The teen area will be spruced up adding a more open, brighter atmosphere, with new portholes to let in natural sunlight.  The name will change to D Lounge, as it is on the Dream and Fantasy.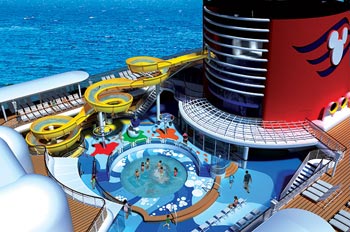 Poolside Enhancements
The pool deck is undergoing some major changes.  Where it is now separated by age group, the new and improved pool area will be appropriate for all ages, from toddler to adults, with a family water play area.   More water features will be added including water sprays and a dump bucket.
The water slide will be re-imagined as kids loop their way to a watery splashdown on the new Twist n' Spout water slide, or conduct water experiments at AquaLab.   A second water slide, known as the Aqua Dunk, will be added that begins with a near-vertical plunge through a translucent tube that winds over the side of the ship.
The quiet adult-only pool will remain about the same, but will include some additional shaded areas.
Dining Venue Enhancements
Hungry? Head for Carioca's, a new restaurant inspired by the colorful culture of Brazil.
Or enjoy the popular Animator's Palate updated look with new animation-adorned walls, high-definition flat screens, plus the addition of the popular "Animation Magic" dinner show.
Stop by Cabanas – a new casual dining experience themed to the Australian setting of the Disney·Pixar animated classic "Finding Nemo."  The popular adult-only restaurant, Palo, receives a makeover with stylish décor inspired by Venice.
The adult-only entertainment areas on deck 4 will be re-named After Hours and will get a sophisticated update with ambiance to the like of any trendy club in cities like New York, Miami Beach or Vegas.
The Stateroom Enhancements
The staterooms and suites will be re-done with some of the most popular features of Fantasy and Dream, like higher beds that allow suitcases to be stored underneath (we love this).   There will also be new cushioned headboards and the outdated bedspreads will be replaced with duvets.
The popular split bathrooms that Disney Cruise Line is known for, with a sink and shower/tub in one and sink and toilet in the other, will stay the same.
How can your family vacation on the new Disney Magic?
Have no fear, you have plenty of amazing itineraries and ports to choose from beginning in October 2013.
Sailing from Miami, FL
Oct. 20, 2013 – Jan. 2, 2014
3-, 4- and 5-night Bahamian cruises and 5-night Western Caribbean cruises
Sailing from Port Canaveral, FL
Jan. 6 – May 16, 2014
3- and 4-night Bahamian cruises
Sailing from Barcelona, Spain
May 31 – Aug. 30, 2014
4-, 5-, 7- and 12-night European cruises, plus 9- and 12-night European cruises departing from Venice, Italy
Sailing from San Juan, Puerto Rico
Sept. 20 – Oct. 11, 2014
7-night Southern Caribbean cruises
Bon Voyage, Disney Cruise Fans!
Jill Noble, owner of Cruise Therapy Travel Co. is a graduate of the College of Disney Knowledge and is recognized as an individual who has attained a special knowledge of Disney Destinations, including Disney Cruise Line.
If you would like a FREE quote for the new Disney Magic, or any Disney Cruise Ship, please email us at info@CruiseTherapyTravel.om  or fill our our Vacation Request Form and we will contact you shortly!