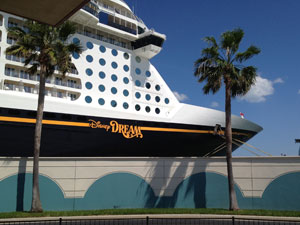 I recently had the opportunity to spend the morning on board  Disney Dream.  At the time of this post, she  is currently based in Port Canaveral, Florida sailing 3 and 4-night Bahamian cruises.  I was on the ship during pre-boarding time, which is why many pictures have no passengers around.
Let me start at the beginning.
Upon entering the new $60 million cruise terminal in Port Canaveral, it's refreshing to see a processing area that is said to accommodate up to 2,500 passengers and a 1,100-seat waiting area.  This means they can simultaneously load and unload passengers.
Woo Hoo!   I can vouch first hand that it's no fun waiting in long lines you, your husband and kids are anxious to be on the cruise ship NOW.
The Disney terminal, of course, runs very efficiently.  As soon as you are checked in you are directed through, you guessed it, the biggest mouse ears you've ever seen.
There's also a large replica of the Disney Dream in the lobby area which is definitely worth checking out.
As guests step onto the ship you are escorted in by white-gloved cast members and given a very warm welcome (I'm not going to ruin the surprise here).
My first impression of the opulent grand lobby of  Disney Dream, was amazement.  The artful design and graceful lines of Dream celebrate the grandeur of classic ocean liners.  It is gorgeous.   Soft gold tones, a beautiful chandelier and a statue of Donald Duck will greet your arrival.
Savor delights and innovative Disney dining. On board, you'll enjoy a unique rotational dining experience—you keep the same servers throughout your cruise and dine in a different restaurant each night.
I love this idea!  It keeps it fresh for children and adults alike.
Aboard Disney Dream, the Enchanted Garden restaurant features an ever-changing sky that's true to the time of day. In a setting inspired by the Gardens of Versailles, morning, noon and night all offer their own amazing sights. Another classic in the making, the Royal Palace restaurant will welcome guests with all the elegance of a Disney fairy tale. While Animator's Palate enjoys a re-imagined Art Deco look while serving up an enchanting, interactive dining experience.
We had lunch in the Cove Cafe, on the pool deck, which is buffet style with selections from sandwiches, seafood, and mexican to pizza, paninis, and ice cream.  The sampling of food on my plate (and it was a lot) was all scrumptious!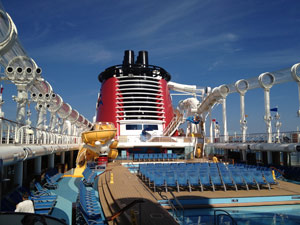 Disney Cruise Line knows how to do water fun!   The AquaDuck is a wild, watery ride.  This 765-foot-long, winding slide propels you up, down, around, through the forward funnel, splashing down four decks and even over the edge of the ship!
The whimsically themed Mickey Pool and Donald Pool are perfect places for kids and parents to splash around. While the splashing fountains of Nemo's Reef invite even the littlest of cruisers to join in the watery fun.
There's even a pint-size water slide for smaller cruisers or those who may not be brave enough to try the AquaDuck (the yellow twisty slide in the middle, left of picture).
Disney is best at making magic for kids of all ages.   Even infants as young as 3 months (to 3 years) can have a fun place to go in It's a Small World Nursery.
It provides a colorful and soothing environment that infants and toddlers will definitely enjoy.   The nursery's décor is a stylized patchwork of colorful shapes associated with the classic "it's a small world" attraction in Disneyland.
The nursery has 3 areas, each with a distinct purpose: the acclimation zone (to help toddlers get used to the nursery), the main play area, and the quiet zone (for naps and resting).
It's a Small World Nursery is available at an additional charge and must be reserved in advance. Reservations for It's a Small World Nursery can be made online prior to your departure.
Kids 3 – 9 years old can explore enhanced spaces designed to inspire like never before. In Disney's Oceaneer Club, Pixie Hollow lets kids immerse themselves in the sparkling charms of Tinker Bell's home. And in Andy's Room (inspired by Disney•Pixar's Toy Story films), kids' imaginations expand by leaps and bounds as they shrink to the size of a toy.
The Disney's Oceaneer Lab boasts new wonders too, including the Animator's Studio where kids can have their drawings come to life. Even more dreams come true when kids get to talk and interact in real time with animated Disney Characters like Crush and Stitch. Or maybe even spend some time with a real live Disney Princess or Captain Hook himself.
Tweens and teens will also have a blast on Disney Dream.
Just for Tweens ages 11-14 years old is their own private club called Edge where they can virtually take control of the ship, play the latest video games or hang out with new friends or kick off all sorts of custom-created adventures.
I found these funky chairs quite comfortable and was apparently ready for a little break!
Vibe is the private teen club on the ship that offers teens an exclusive indoor lounge with plenty of space to relax, plus an outdoor escape that includes its own splashy fun.
No adults.  No little kids.
Vibe reaches out to the very bow of the ship. With an entrance that requires a special key—accessible just to teens and their counselors at sea—this hidden hangout is the hub for all teen activities.
It's a place made especially for parties, music, video games, big screen plasma TV's and its own lounge area.
Adults can relax at the Quiet Cove Pool while the kids are off enjoying their own dream cruise, carefully supervised by Disney Youth Counselors.
Enjoy the Northern Italian flavors of our classic romantic restaurant, Palo, which features a brand-new look, al fresco dining and more. Or the most elegant restaurant, Remy, with its fine French cuisine and sumptuous setting inspired by Disney•Pixar's Ratatouille film.
Both are reserved just for adults.
At night, The District beckons with five distinct clubs, including: Pink, an elegant champagne bar and Skyline, with a spectacular new city view each evening.
Whether it is Disney character dining, fun in the sun or just some good ol' fashion family time, Disney Dream is sure to deliver.  After spending the morning on board this beautiful ship, there is one thing I know for certain.
I'll be back real soon.
And next time I'll bring my family!
If you and your family would like to explore a Disney Cruise Line vacation, I'd love to help you find the perfect match.  Disney Cruise Line has 4 ships to choose from, Dream, Fantasy, Magic and Wonder.  They are all beautiful ships with itineraries and activities for everyone in your family.
Send us an email at info@CruiseTherapyTravel.com  or fill out our Vacation Request Form and we will contact you shortly!
Bon Voyage Disney Fans!